About Cornwall's Best Hog Roast Company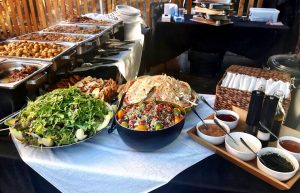 When choosing the right caterer for your special occasion, you need to be sure that your needs will be met, the food will be fresh and tasty and that the service is second to none from start to finish and you have come to the right place to find out all about us! When it comes to Hog Roast Cornwall, that's the right choice in these ways and more. We care about our customers, so we care about the food that we serve to our customers, and that can be seen in the quality, flavour and appearance of the dishes that we prepare and cook.
Over the years, we've catered all kinds of events, both large and small, both formal and informal and for varying budgets, and these all have one thing in common – our dedication to providing the best food and service for you and your guests. What you may not know is our flexibility with regards our menu choices, too…
Your Party, Your Food, Your Choice
While we have several menu options here at Hog Roast Cornwall, they are not at all exhaustive, and we are always happy to work around them, let you mix and match items, or even help you create your own menu. We're happily flexible so that you can have the food that you desire at your party; after all, when it's a special occasion that you're planning, it should always be your choice of food, not just you having to settle for one particular type of food served.
We have additional and alternative options so that all tastes, wants and needs are covered and this includes dietary needs, such as vegetarian, vegan or gluten-free. If you're having a posh party at a stunning venue, our waiters can serve welcome drinks and canapés before you and your guests indulge in several tasty courses. At the other end of the scale, we can cook our celebrated pigs in buns or a barbecue in your back garden. It's your party, so it's your choice.
The Best Hog Roasts In Cornwall
Hog Roast Cornwall is well-known for our signature hog roast and with good reason; after preparing the high-quality, local meat from scratch and roasting it for hours, we serve it to you and your guests at the optimal time after resting. The taste will amaze you but the sight and the smells of one of our hog roasts will stay with you for years to come.
We started out by offering simple hog roasts, which we still enjoy cooking. However, we now offer a range of other styles of food.
Whether you want a carvery style buffet, a formal sit down meal or a cold buffet with hot meats, we can provide them. Take a look further through our website to find out more about us and what we can bring to your special event.