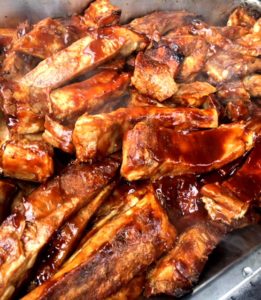 For over a decade, Hog Roast Bude has been cooking up fantastic party and event food. During that time, we have cooked literally hundreds of hog roasts and delighted thousands of party guests with our culinary skills.
It does not matter what type of party you are planning, or how many people you are inviting, we want to do your catering. We know that we can make feeding a big group of people super easy for you. Once you have ordered you can rely on us to take care of everything, so you can stop worrying and enjoy your special party.
Choosing from our hog roast menus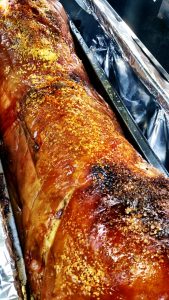 The majority of party hosts still order hog roasts from us. This type of party food represents incredible value for money, but, more importantly, it tastes fantastic. Spit roasting is the best way to lock in all of the flavour and moisture, which is why it is so popular.
However, at Hog Roast Bude, we appreciate that not everyone wants to serve this style of food to their guests. That is why we have included so many other dishes on our menus.
You can opt to order one of our set menus or to select individual dishes that you want to be served by us. All of our meat, canapés, desserts, salads and side dishes are freshly prepared by our professionally trained team of chefs.
Most people want us to cook in front of their guests, which we are more than happy to do. It is a great way to create an extra special ambience. We can also provide front of house and waiting staff. This is an especially good option for corporate events and weddings.
Create your own tasty party hog roast
If you fancy giving cooking your own hog roast a try, we can help. Our state of the art hog roasters cost very little to hire for a day or weekend.
Why not book us now
Starting the ordering process could not be easier. All you need to do is to fill out the form that is provided on this page.