Hog Roast Callington are specialists in finely made fresh roasted meats and are especially famous for our tender hog roast which can be hired for catering at any of your events in Callington. Our catering services are the best there is, so do not hesitate to call us for your event, no matter the size or your budget. We're happy to accommodate all – weddings, corporate functions, birthday's, dinner parties, community celebrations, we'll work flexible to your needs and budget. Our special spit roasted pork is sure to be the winning dish of any event! Hog Roast Callington is all about quality at every step. Between our incredibly friendly expert team of chefs and caterers, and our fine selection of the highest quality meats sourced locally you won't find any better than Hog Roast Callington. Our stock is in quality service at an affordable price.
As locals we're proud to cherish in the community spirit that has seen villages like Callington flourish through the years, and we believe fully that the spectacle (both in taste and sight!) of our mobile spit roast is sure to ignite that community delight again at your events. We work tirelessly to prepare your roast fresh on the day, ensuring that your meal is given the proper time, care, and attention so that when it comes time to eating you get the very best taste you and your guests are craving. There is little else that makes us happier than to see the smiling faces of our guests as the bite into one of our hand pulled-pork rolls – it's as much a treat for us as the roll is for you!
Fine Cooking Catered For You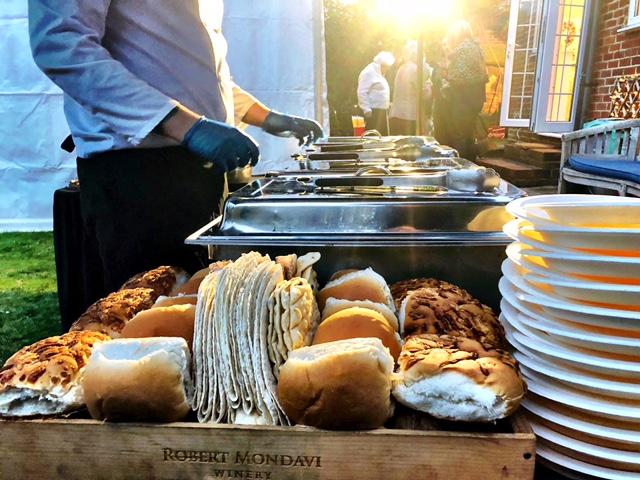 Hog Roast Callington believe in flexibility, which is why we will work personally with you to refine the menu for your needs. We have a huge range of menu items, spanning from our speciality hog roast, to other meats, vegan, vegetarian, and gluten-free picks of canapes, sides, salads, and more! Every item in our buffet and set-menu options is of the highest quality so that no one need miss out Hog Roast Callington's exquisite taste.
So why wait? Special events are never far away so make sure to get ahead of the crowd and hire Hog Roast Callington today!