At Hog Roast Newquay, we are all too aware that some times less is more, and that when it comes to weddings, not everyone wants a lavish party with hundreds of guests, but rather something a bit more intimate. Why over complicate things when simplicity is often the key? If this is your preferred style, then we have menus and services to suit you. In fact our menus are so broad in range, that we believe we have an affordable menu of fresh, quality cuisine for everyone.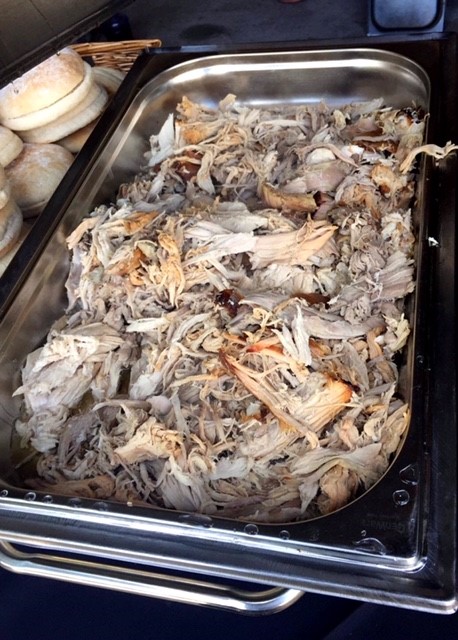 For Harry and Katie, this became apparent. We met with them to discuss their needs and they told us that for their day, they wanted simplicity. The service was to be held at a registry office and the number of guests limited to roughly fifteen people. Following this they would head for the reception at a small pub that had been closed just for them, which is where they wanted us and our tasty food to be.
When the day came, the small team from Hog Roast Newquay were on hand well before the happy couple arrived so we could get the Hog Roasting and start preparing the space for the guests. The weather was with us and we were able to set up the Titan, Hog Roast machine outside to capture the feel of a BBQ, and we decorated the tables with subtle and tasteful displays. The smell of the Hog was well and truly in the air when the happy couple arrived with their guests, and our waiting staff was on hand to take orders for drinks. It wasn't long before the Hog was golden brown and piping hot. The guests were called for service, and ate their pigs in buns together, as group close knit friends and family.
We left our guests to enjoy their night, as we discreetly packed up and disposed of all our waste off site. Katie wrote to us in the days after, to thank us for helping to make her wedding a special one. If  the next time you're hosting an event, you want service tailored to your needs, then why not book a free consultation with us here at Hog Roast Newquay?