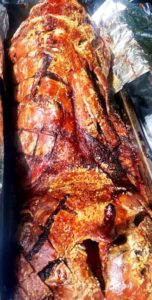 It does not matter whether you are planning an office party, an anniversary celebration, or a birthday; a hog roast is a perfect way to feed everyone. There really is no better way to make your guests feel special and valued.
We know this to be a fact because over the past few years the Hog Roast Newquay team has been serving up this wonderful celebratory food to guests, across the region. Every time we do it is eaten fast and clearly enjoyed. A hog roast sets the scene. It is a piece of theatre that helps to create a special ambience.
Food everyone will enjoy
It is also a really affordable way to give your guests a meaty treat. A medium size hog will easily feed 80 guests. If you are expecting more, do not worry just order a 2nd hog. We can cook as many as you need.
For smaller parties we offer a range of joints, so your guests can still enjoy the taste of freshly cooked pork. Pork cooked in this way tastes wonderful just pulled from the bones with apple sauce and stuffing, in a nice roll.
If you prefer other meats, we can easily cook them for you. Our chefs are very experienced so have cooked everything from suckling pigs to whole turkeys and beef joints. The fact that our spit-roasters can be converted into barbecue grills enables us to also offer a range of burgers, sausages and other foods.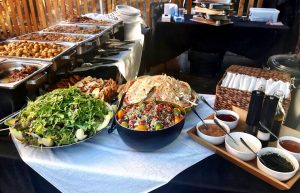 It does not matter whether your guests are meat eaters or vegetarians we can provide them with fantastic food that they are sure to love. The hot meat is served by our chefs, and your guests can help themselves from a buffet table loaded with a range of finger foods, salads, sauces and side dishes, which we provide. If you prefer, your guests can be served at the table because we also employ waiting staff
Impress your guests – cook your own hog roast
If you would like to have a go at cooking your own hog roast in Newquay, now you can. Our modern spit-roasting machines can easily be leased for a low cost.
Ask us for a quote
To get a no obligation quote, just fill out the form that you can find on this page. One of our friendly and helpful team will call you back with a quote within one working day.