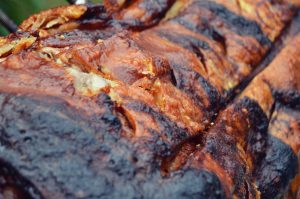 There really is nothing more enjoyable than a party, especially if you are celebrating something special like an anniversary or wedding. A lot of effort goes into organising an event like this. Good hosts work hard to make sure that they provide delicious food that is suitable for every guest to enjoy.
Whether you are planning a corporate event, a wedding or anniversary dinner the Hog Roast Penzance team is here to do all of the catering for you. We will take the strain so you can relax and enjoy spending time with your guests.
The food you really want
Most of our clients still want to serve a hog roast at their event. It is still a very popular celebratory dish that impresses and feeds a lot of guests. For a host on a budget, a hog roast is a great choice because a medium sized one can easily feed around 80 guests.
If you are planning a small get together you can still hire us. We are more than happy to cook smaller joints. Whole chickens, turkeys and gammon joints all look really impressive and taste delicious.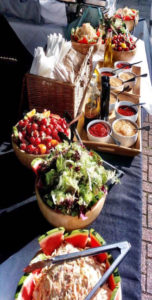 It is you that decides what selection of foods are served to your guests. As well as a range of spit-roasted or barbecue meats we offer dozens of different side dishes. You just need to select the canapés, salads, vegetable and potato dishes you want us to serve from our extensive menus.
On the day of your party, we will prepare everything using the best ingredients. All of the hot dishes will be cooked in front of your guests. Once the food is ready, our chefs will serve it to your guests. You choose how this is done. For informal parties, our buffet option is usually best, but for weddings and corporate events we also offer a full front of house and waiting team.
Fancy cooking your own hog roast?
For those people who are adventurous cooks we also offer the chance to hire a spit-roasting machine from us. They are super easy to use, meaning that you can easily rustle up a whole hog roast, or other spit-roasted meats for your guests.
Your next step
To hire us, just ask us for a quick quote, and say yes to our competitively priced catering service.