If you live in and around the Truro area, and are considering hosting a party, or special event, we are the catering company for you. For close on a decade the Hog Roast Truro team has been providing fantastic party food that has thrilled hosts and guests alike.
Our tailored approach to private or corporate function catering is sure to work for you. We cook exactly the right type of food for your event, so that you can relax and enjoy your special function or party.
How it works
The process is simple. All you need to do is to choose the dishes you would like served and tell us how many people are attending. Our experienced catering staff will quickly work out how much food is needed and confirm that you are happy with their assessment. On the day, they will cook everything that you have ordered, so that your guests can enjoy fresh, tasty food.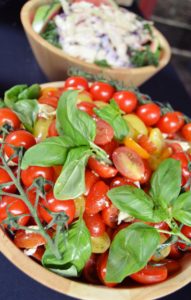 The fact that we offer other barbecued or spit-roasted meats, as well as a long list of side dishes means we can cater for any type of party. Hog roasts are tasty, but we appreciate that you may want to serve something else. You can even ask us to cook vegetarian or gluten free food. Once we have cooked everything we serve it all to your guests, so you can continue to relax and enjoy yourself.
There are several ways this can be done, including a buffet service or a formal dining experience. We provide the staff to do this as well as cutlery and plates that are appropriate for the event.
Our DIY hog roast package
It is even possible to hire a hog roaster from us, so that you can cook a hog roast yourself. On the day of your party, one of the Hog Roast Truro chefs will quickly show you how to use our modern spit-roaster to get stunning results.
Hiring us is easy
As you can see, hiring us for your function is the easiest way to make sure that your guests go home with full bellies and a smile. Ordering is easy, just ask us for a quote, then sit back and let us do all of the hard work for you.