This October, Matthew celebrated his 30th birthday. His wife, Jenny, wanted to make his birthday extra special and so she was helping him to organise a large birthday party for all of his friends and family. She could not bear cooking for so many people, therefore, she decided to hire the Hog Roast Bodmin team to do a wonderful for her. She selected a casual arrangement of food from the private party menus with bread rolls to compliment the meat. They were hosting the party in the late afternoon and so required the team to provide buffet food for an evening meal.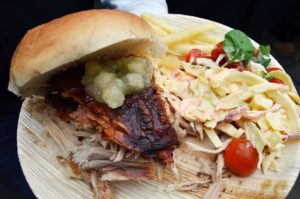 The Hog Roast Bodmin team arrived on time to the birthday and set up the hog roasting equipment quickly and efficiently. Jenny had organised masses of decorates and had tied balloons all around the garden. The guests began to arrive with armfuls of gifts and cards for Matthew. They began to open and pass around the wine as the house filled with guests and Hog Roast team cooked.
Matthew had invited fifty people and they were eager for their evening meal. The Hog Roast Bodmin team arranged the buffet beautifully and the guests admired the food before they dug in. The buffet was enjoyed by all and the food went down quickly. The team worked hard to ensure that the buffet was maintained and the guests did not run out of food.
The service ran very smoothly and the head chief was incredibly pleased the effort put in by his team, and so were the hosts. Matthew had a great birthday and he really enjoyed the party as well as the food. The guests had a great time and fantastic atmosphere was maintained throughout the night. Jenny was very pleased that she had chosen the Hog Roast Bodmin team for Matthew's birthday and would definitely hire them again. The Hog Roast Bodmin team was perfect for an event like this because they can easily cater for a large number of people. In addition, they can keep the food fresh and warm so they quality of the meat is maintained throughout the buffet.