When you invite Hog Roast Lizard to cater your event or party, you're ensuring you get a warm welcome from our dedicated professionals, tasty food and great service throughout too. From the first phone call to the time we're clearing away, you'll see our patient, hard-working team members going the extra mile to make sure that you and your guests are all satisfied, and that's including making you homemade dishes that will warm your soul in these chilly autumn months.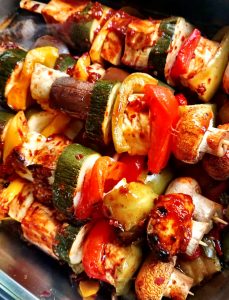 You may be surprised by this but we don't only cook hog roast centerpieces for our customers. Whether you're thinking of a spit-roasted alternative, like turkey, chicken, lamb or beef, or maybe a barbecue with burgers that are 100% beef and gourmet sausages that our chefs make just for you, we have all kinds of options to suit different palates. But when it comes to dietary needs, you need to know that you and your guests will be catered just as well, too, and with Hog Roast Lizard, you will be. If you need a vegetarian dish, for example, we have plenty of choice, such as veggie burgers or skewers, stuffed mushrooms or peppers or even American-style mac and cheese. We can even make these options vegan if needed, and cater for other special diets if you let us know when you book.
For a birthday party that we catered locally over the weekend, we were asked to provide hog roast rolls for most of the guests, as well as a vegetarian dish. Sandra called us weeks ago, to book her mother's 75th birthday, and when she asked if we cater for veggies, she was happy to hear that we can and do and she asked us to cook our grilled vegetable kebabs for that guest.
On the day of the party, Hog Roast Lizard arrived at Sandra's home early in the morning and got to work setting up our gazebo, serving tables and hog roast machine in the back garden. Before long, we were roasting a medium hog to feed 40 people and then nearer the time of service, we grilled the halloumi and vegetable skewers. By 1pm, the birthday girl and her family and friends were tucking in to some gorgeous food.