Party or event catering can often be quite stressful. When you have to plan for everything else to make your day a success, The Spitting Pig can take the weight off your shoulders when to comes to providing great, tasty, quality food, helping you to enjoy much more of the day than you otherwise would. A hog roast can actually be more affordable that you might think and even a small a pig goes a long way to providing lots of food for your guests. We can provide high-quality catering no matter your budget, number of guests or wants and needs and it may surprise you to find out that we don't only cook hog roasts! While our slow-roasted pork is a huge success with customers, we can alternatively spit roast or barbecue a different meat instead, provide other kinds of dishes like fish, vegetarian quiches or salads, and cater both informal events and posh parties. We are extremely versatile when it comes to helping customers create what they want when it comes to food catering.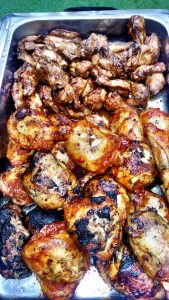 Yesterday, we catered for a new customer, Sally, who called us several months ago asking for some advice. A friend of hers had recommended us, which is always great to hear, as word of mouth is such an important tool when it comes to catering. Sally wanted a hog roast in Otterham at her son's birthday party but was concerned that not everyone would enjoy it, so asked for an alternative as well. We explained all the different options that we can provide and that we're happy for customers to create their own bespoke menus if preferred, but Sally was more than satisfied with us adding some barbecued food for those who preferred not to eat the hog roast in Otterham. One of our chefs actually created his own special sausages and we also have seasoned chicken thighs, which sounded perfect to Sally.
For the party of around 35 guests, we roasted a pig for a few hours in Sally's large back garden and barbecued the sausages and chicken. We'd also brought bread rolls, apple sauce and stuffing to make delicious hog roast rolls, as well as some simple but ultra-fresh salads. All of the food we provided went down a storm and Sally said she was so incredibly glad that her friend had recommended us.