If you've always fancied hiring a hog roast machine so you can cook a feast at home but you're a little apprehensive about what it entails, let us put you at ease. Cooking in this way is actually easier than you might think and our hog roast machines are so well-made and fantastic at what they do that you'll wonder why you left it so long before renting one. Our range of sturdy and versatile hog roast machines are top-of-the-range and bestsellers in this country and abroad. We designed them and we make them ourselves in the UK, so we know exactly what goes into each of them.
After plucking up the courage for some time, Jared called us asking about our machine hire service. We explained that we would walk him through how to use the equipment in person when dropping off the machine, that we could supply the meat if he needed and that we also provide written instructions that he could refer back to. Breathing a huge sigh of relief, Jared said he appreciated it more than we knew, as it was exactly what he needed to hear. He booked us in to drop off a hog roast machine at his house so that he could cook in the comfort of his own back garden, and asked us to provide a small, locally-sourced hog for his first time.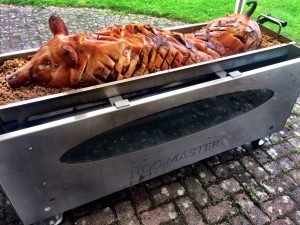 You can hire one of our machines for as long as you like. For his DIY hog roast Port Isaac with a few friends, Jared decided he wanted a one-day hire, where we would collect it from his home the following day. I delivered the machine myself and had the pleasure of walking him through how to use it and trying to calm his nerves. Once he seemed happy with it, I left him to it.
When I collected the machine the next day, Jared was smiling from ear to ear, so I assumed that the hog roast Port Isaac had been a big success. It had and they had all enjoyed the gorgeous meat produced but it turns out that one of his friends had taken over the entire cooking process. Jared booked a machine rental for next week, too, as he's adamant he'll get to cook his own hog roast one of these days!