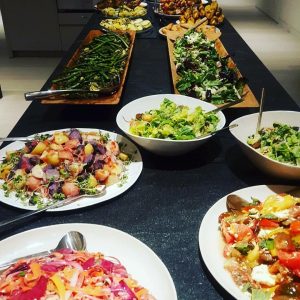 For Chris and Penny's engagement party earlier this week, we cooked a delicious hog roast in Seaton for the couple and their 40 guests. It was held at a lovely, local boutique hotel and we had the huge garden to ourselves for the celebration. We can provide a marquee or gazebo for your party and in this case, we took the marquee along, as it was due to rain on the day. The couple said even bad weather wouldn't dampen their spirits but they preferred that their guests be kept dry if possible!
Even though the couple hadn't used our services before, a word of mouth recommendation headed them towards our website. They perused our menus online and called us to book a few weeks ago, just after Chris had proposed while they were on a romantic holiday in the Maldives. Surprised to learn that we can cater for smaller parties, as Chris had thought hog roasts were only for huge events, we surprised him even more when saying we've catered for parties of only a handful of people up to thousands of guests – we can do it all. Whether you book an intimate affair or a massive group, you get the same high level of service and the same quality food.
Chris and Penny decided that they wanted our Private Party Menu 1 – that's our hog roast sandwiches special, with a succulent pig roasted at your venue in front of you from start to finish – we don't just turn up with a pre-cooked animal like some hog roast companies, as it just doesn't taste the same as a freshly-cooked one, with the piping hot meat that melts in your mouth. Your sliced pieces of heaven are served in bread rolls with our tasty, homemade apple sauce and stuffing, and topped with pieces of the crunchy, salty crackling.
We arrived at the venue a few hours before service, as the hog needed lots of slow roasting and a rest before carving. Once done, the guests waited patiently for the hog roast in Seaton to begin, huddled inside the marquee, away from the rain. They all stood and clapped when I pulled out my carving knife…