The catering provided at your wedding is a big part of your special day. It has the potential to bring your guests together and create an ideal talking point for the rest of the reception. There are many factors to consider when creating your menu, so it can be very helpful to know that Hog Roast Otterham are on hand to help you with every aspect! Here is how we can help you to craft the perfect wedding menu…
How many guests require catering?
The first step to planning your package is finding out how many guests require catering. Wedding sizes can vary considerably and size can also affect other aspects of your catering, so an estimate of size is what we need to know first.
What is the formality of your event?
The formality of your event is likely to be reflected in your catering. For example, a traditional wedding is likely to require a formal, sit-down meal. Hog Roast Otterham have several different catering styles, with one that can match every level of formality.
How many courses do you require?
Some weddings require a single main course, whereas others may require canapes, a main course, and a dessert. The courses you choose are entirely up to you! We can also provide two separate meals, which is sometimes required for longer events. In this case, we usually provide a formal lunch and an evening buffet.
What dishes appeal to you?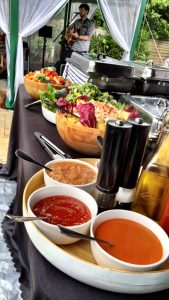 Hog Roast Otterham have so many different dishes on offer, with something to suit every guest. The size of your wedding will often predict how many different dishes you require, but our packages are completely customisable to ensure that you get your perfect meal. Some of our most popular main courses include slow-roasted pork and spit-roasted lamb, although we also have more child-friendly and vegetarian options.
Hopefully, this guide has helped you to see how you can go about crafting your perfect wedding menu! Hog Roast Otterham are always happy to help with any queries or questions you may have about our catering. To book your wedding package today, simply let us know your party size, date and location.