For the celebration to follow baby Matthew's christening at home, we were asked to provide our sumptuous hog roast rolls (or 'pigs in buns', as we call them). Matthew's parents wanted a hog roast  in Tintagel centrepiece in their large back garden to commemorate the day – something special, theatrical and a vision that their guests wouldn't forget in a hurry.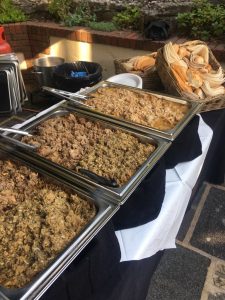 For the 25 guests, we would supply a smallish pig that would still provide more than enough meat, as well as some fresh salad dishes. The hog roast rolls themselves include freshly roasted pieces of pork and salty crackling, topped with stuffing, apple sauce and any condiments that the guests prefer, and are extremely popular with our customers. While we can supply all kinds of food for your party or event, hog roast rolls are arguably the winning choice.
We arrived at the house on the morning of the christening, to be let in by Matthew's parents before they headed off to the church with family and friends. Even a small hog can take a few hours to cook, as it needs to roast slowly so that it stays moist inside and doesn't burn on the outside. We always cook the meat fresh at your venue, as it massively affects the taste otherwise, and we got to work on preparing this locally-sourced quality hog roast Tintagel. Preparation is fairly easy; we've surprised many people who have hired our hog roasting machines when explaining how to score, moisten and salt the hog. Then it's just a matter of watching over it as it roasts, checking that the gas flame hasn't gone out and that the meat is cooked thoroughly.
As the guests arrived back at the house, full of smiles and the joys of summer, the hog was resting for a short while. We prepared the lovely garden-fresh salad leaves and dished up our tasty homemade apple sauce and sage and onion stuffing, and arranged them with the condiments on the serving table. My colleague sliced the floury buns as I started to carve the gorgeous crackling off before slicing into the meat and then the guests all headed towards the gazebo to fill their tummies.