After a busy 2021 that took us through all sorts of ups and downs, the team here at Hog Roast Blisland were more than thankful for the break over the festive period. For obvious reasons it was perhaps a little bit of a quieter Christmas to previous years, but after the hecticness that we and everyone else has endured we won't quite complain this time!
The Hog Roast Blisland team took their break as it should be enjoyed: sitting lazily around the house, eating far too much chocolate and leftover Christmas foods, cosying up to a good Christmas film or two, and just letting the batteries recharge. Pure bliss!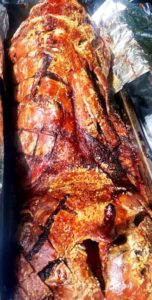 But we're back now for 2022 and raring to go once again with fresh energy and enthusiasm! Just as our hog roast goes round and round on the spit, so too do the events keep on turning through! And, so, the Hog Roast Blisland team has already been back in thick and fast with plenty of work sorting out your upcoming events. We can't wait to see you all again for 2022. And to those we've already had in dining with us in just these short few weeks already: what a way to start the year huh!? We're hoping that this good feeling to the new year already can keep on going through all of 2022 – we certainly all need a year with a bit more stability and normalcy!
To that end, if you've been putting off that rare event, if you're in need of some special dining having held off over the last two years, or if you just want a good reason to dine on some great foods this 2022, Hog Roast Blisland are ready for your calls and messages again. The calendar gets booked up quick, so it is never too early to start thinking about that special event you've always dreamed of with us today! We'll get you set up with the best foods and catered service in the business.
Hog Roast Blisland passes on its belated happy new years to all of our customers, and we hope that it will be one to shout about for all for once!