When it comes to hosting a party or event featuring a centrepiece hog or spit roast, it doesn't have to be a costly affair at all. Here at Hog Roast Penzance, we have lots of options to suit different budgets and though it may sound extravagant and it certainly looks impressive, it may not be as expensive as you think. A hog roast itself is actually a very cost-effective way of feeding a large number of people but even if you're having a smaller do, the price may well surprise you.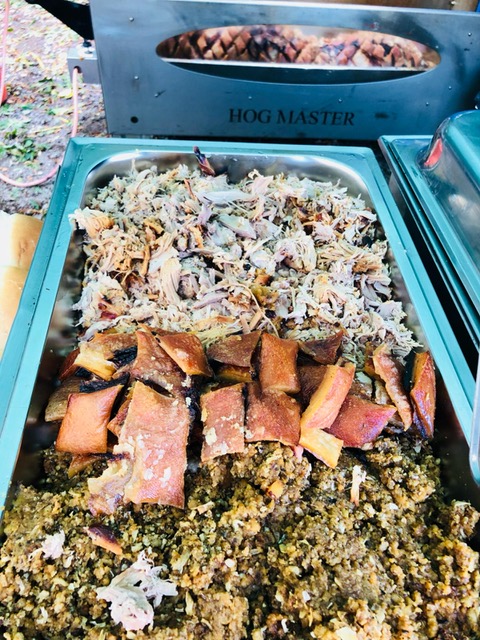 Our Hog Roast Penzance team recently catered an informal birthday party locally where there was a small number of guests invited. We cooked a small hog for this function, which managed to provide seconds for everyone and there were still lots of lovely leftovers for our customers Dave and Zoe. For their daughter's 18th, the couple wanted to push the boat out and host a birthday hog roast, where our chef and his team would prepare, cook and then serve some gorgeous food to the 12 guests. 
With a vegetarian guest invited too, Zoe was worried that they would go without, but Hog Roast Penzance would never let that happen. We told Dave and Zoe all about the various options we have for guests on special diets, and they decided on veggie skewers, which feature fresh halloumi and vegetables grilled to perfection and served with a dip and pitta bread. If any of the other guests wanted something different to the pigs in buns we were making for most, there would be spare skewers to go around too if needed.
On the day of the 18th party, we arrived early afternoon to set everything up and prepare the meat for it roasting. We were serving at 5pm, which gave us a few hours for the pig to slowly sizzle away and cook through and through. Nearer the time of service, while the skewers were grilling, we sliced the soft bread rolls and arranged them with fresh wraps, got out the condiments, apple sauce and stuffing, and let the guests know it would soon be time to tuck in. By 5pm, everyone was on their feet waiting!