Beachside weddings are wonderful as they incorporate good weather, a beautiful venue, and an incredible ceremony. You can choose whether to host your reception, ceremony, or both on the beach, creating the wedding that you have always dreamed of! Certain catering packages are better suited to outdoor weddings, including this delicious option from Hog Roast Paul…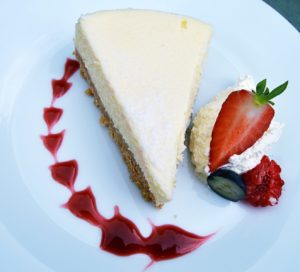 With the weather beginning to get brighter and warmer, our catering manager Paul was recently hired to work at a beach wedding taking place in Cornwall during June. Charlotte contacted Paul to enquire about our wedding catering packages, as she needed something that could be served formally and would be ideal for 30 guests to enjoy. She had always preferred the idea of a small and intimate wedding and Hog Roast Paul have just the right menu for this occasion! After looking through our menus, charlotte decided that our formal wedding catering package would be ideal for her big day!
Our formal catering package begins with starters served tableside to your guests. In this case, the tables will be set up outdoors and Hog Roast Paul will be working from an outdoor catering station, although we are also available to work inside too. Charlotte has selected for her guests to enjoy our soup of the day, which is served with fresh bread rolls and butter.
Following this, we will serve a classic Hog Roast Paul main course, including a slow-roasted hog and all of the trimmings. This is an excellent main course as it is extremely filling and packed full of flavour! The main dish is served with seasonal vegetables, and your choice of potato dish.
To finish the wedding menu, we will serve a selection of desserts, alongside fresh fruit, and English cream. This can optionally be accompanied by your wedding cake if you choose to do so.
Do you have an outdoor wedding reception approaching in 2022? If so, get in touch with our team today to secure your date. Simply let us know your party size and location and Hog Roast Paul can get to work on planning your ideal catering package.